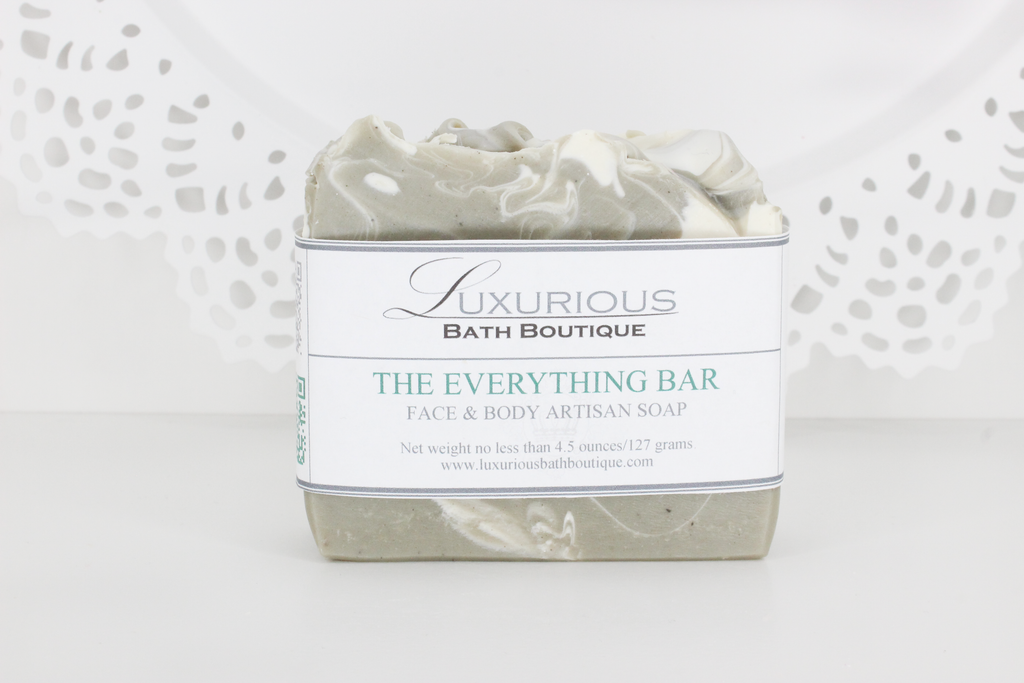 The "Everything" Bar - Vegan
Luxury Artisan Soaps from Luxurious Bath Boutique are crafted with the entire bathing experience in mind. We formulate our soaps by focusing on the condition of your skin before, during and after you bathe.


Skin must be gently yet thoroughly cleansed. While bathing, our luxury artisan soaps gently removes dirt and oil from your skin with the addition of Salt water, Dead Sea clay. While Babassu oil and Cupuacu Butter leaves your skin feeling smooth, conditioned and squeaky clean without stripping the skin. 
What does the Everything Bar smell like?:
A fresh essential oil blend of Rosemary, Lavender, Spearmint and Litsea Cubeba.
Here is a list of some of the great ingredients in "The Everything Bar"!
Babassu Oil— Moisturizing, nourishing and easily penetrates the skin; non-comedogenic.
Olive Oil— Good skin penetration and is healing for dry, damaged and wrinkled skins. It protects, tones, firms and improves texture whilst increasing elasticity and moisture content.
Neem Oil— Healing, soothing, anti-ageing and analgesic for skin
Cupuacu Butter— Moisturizing, restore the skin's elasticity, repairs dry skin, wrinkles and lines. 
Dead Sea Clay— Hydrates and moisturizes the skin, improve blood circulation, remove dry skin, and it also treats acne, psoriasis and eczema.
Sea Salt— Cleanses and detoxifies the skin. Effective treatment for common skin conditions such as dry skin, psoriasis, and acne.
Ingredients: Select here for the list of ingredients we use in our handmade soaps
---
---
More from this collection