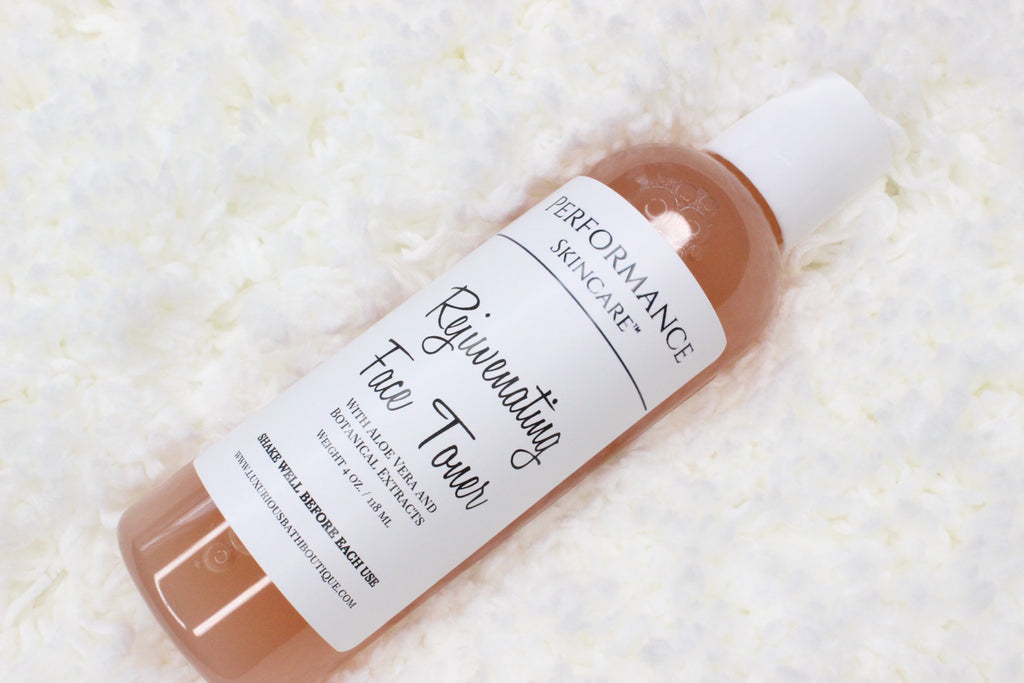 Performance Skincare™ Rejuvenating Face Toner
Performance Skincare™ is a line of skincare products created to perform! Our products will gently cleanse, exfoliate, rejuvenate and soften the skin so you are looking your best every day!
In order to prep your skin to feel and look its very best, we must tone!
Performance Skincare™ Rejuvenating Face Toner is the first action you need to perform on your face. Our facial toners provides hydration to your skin, which is essential to maintaining elasticity, smoothness, moisture and a more youthful appearance. Proper skin hydration reduces the signs of aging skin and provides an effective base for the application of facial cosmetics.
Botanical Extracts aid in the rejuvenation process of your skincare regimen. Our face toner includes botanical extracts such as Rose and Lavender extracts. Lavender extract soothes and calms the skin. It's known to normalize any skin type but is particularly good for oily skin. Lavender extract also gently cleanses the skin to remove any residue left behind from cleansers, masks, etc. 
For dry, mature, and sensitive skin, rose extract can impart intense hydrating properties. It has a complex concentration of antioxidants, minerals, and vitamins. Rose extract helps to minimize redness and soothe irritation – making it ideal for all skin types including chaotic, dry, mature or sensitive skin. This extract also plays a key role in preventing cellular oxidation caused by environmental stress. 
For use on all skin types
Instructions: Apply 10-20 drops to a cotton pad and rub over entire face, neck, and behind ears and behind the ears. Do not rinse. Proceed to step 4, facial serum and/or face moisturizer.
Ingredients: Distilled Water, Aloe Vera Juice, SDA 40b,
Water & Hamamelis Virginiana (Witch Hazel) Bark/Leaf/Twig, Water (and) Glycerin (and) Rosemary Extract (and) Lavender Extract (and) Rose Extract (and) Nettle Extract (and) Lemon Grass Extract, Panthenol, Fragrance, Xanthan Gum, Lactobacillus Ferment, FD&C Red #4, D&C Orange #4, Glydent.
---
---
More from this collection