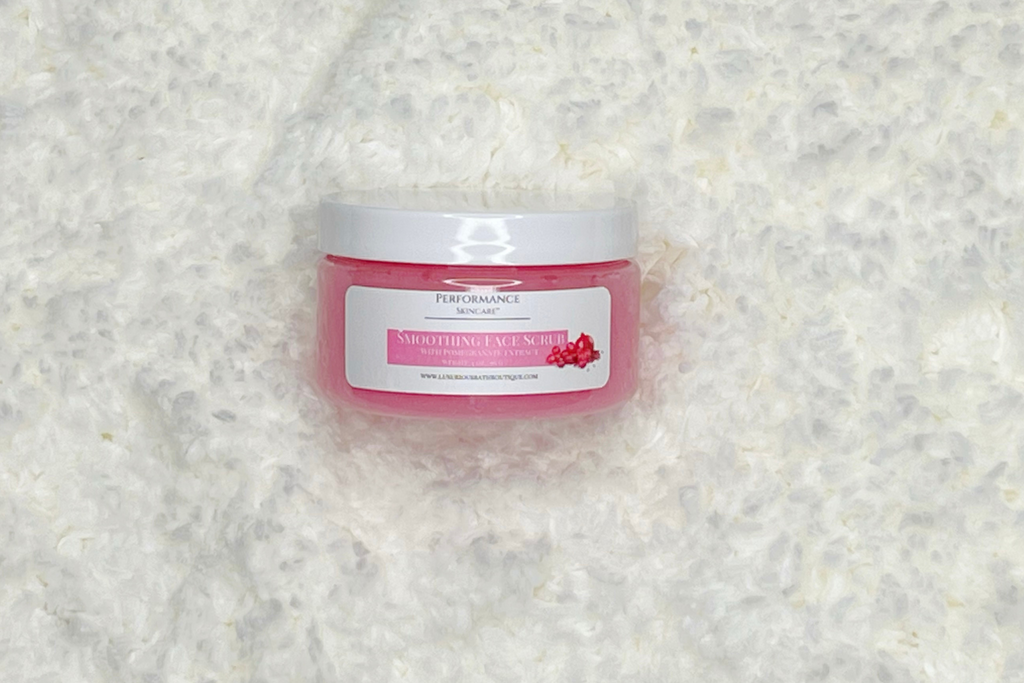 Performance Skincare Pomegranate Smoothing Face Scrub
Performance Skincare™ is a line of skincare products created to perform! Our products will gently cleanse, exfoliate, rejuvenate and soften the skin so you are looking your best every day!
In order to remove the days stresses from your skin, the first action that needs to be performed is to cleanse.
Performance Skincare™ Pomegranate Smoothing Face Scrub is the product to get your skin prepared for active ingredients such as serums and acne treatments. It also preps the skin for makeup applications to go on smooth and flawless. This can only be  achieved by removing dead skin from the surface of your skin. This face scrub has moisturizing sunflower oil and Illipe Butter that results smoothing the skin without a greasy after feel.  
Pomegranate Extract aid in the rejuvenation process of your skincare regimen. Pomegranate antioxidants helps to defend the skin against harmful elements such as free radicals by neutralizing its effects. Pomegranate extract is packed with minerals and vitamins, especially Vitamin C, that are vital in protecting and repairing your skin.
For use on all skin types
Size: 4 ounces
Instructions: Lightly damp skin and apply a nickel size to two fingers and apply in a circular motion on the skin. Add more as necessary. Rinse off with a warm face clothe.
Ingredients
: Helianthus Annuus (Sunflower) Seed Oil, Canola Oil,  Shorea Stenoptera Seed (Illipe) Butter, Cetyl Alcohol, Cetearyl Alcohol, Polysorbate 60, Water & Punica Granatum (Pomegranate) Extract, Fragrance, 
Lactobacillus Ferment and Cosmetic Colorants.
---
---
More from this collection