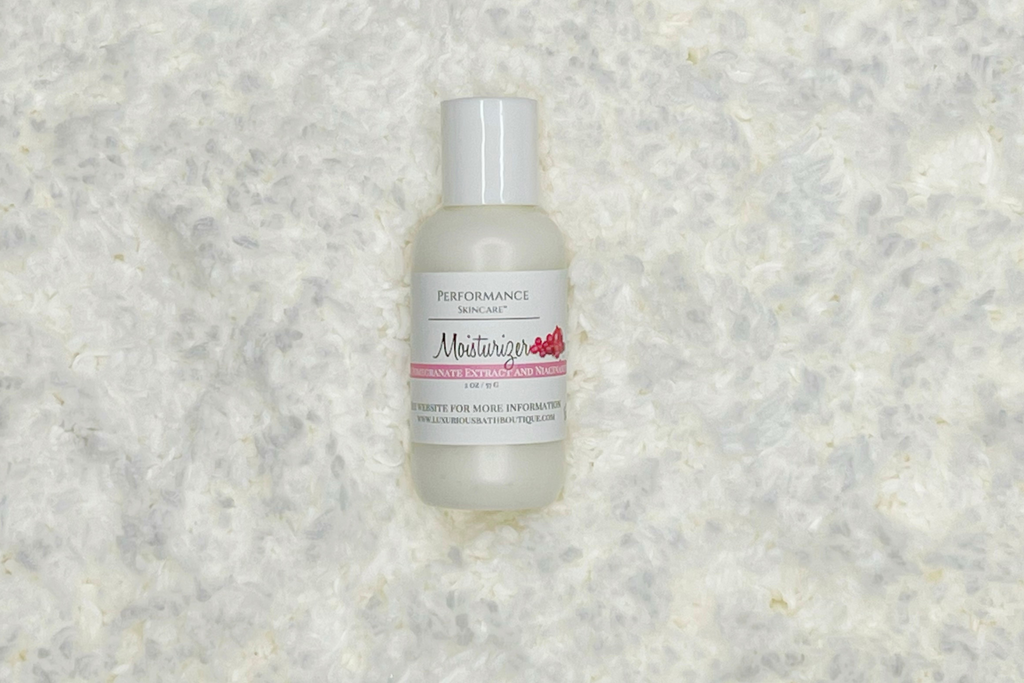 Performance Skincare Pomegranate Face Moisturizer
Performance Skincare™ is a line of skincare products created to perform! Our products will gently cleanse, exfoliate, rejuvenate and soften the skin so you are looking your best every day!
To end our facial, we must seal in all of the goodness we gave with our face moisturizer!
Performance Skincare™ Pomegranate Face Moisturizer was created to seal in all the goodness of your other Performance Skincare™ products for a complete your home facial. Our moisturizer is for all skin types. Performance Skincare's moisturizer contains Pumpkin seed oil.
Pumpkin seed is known to brighten skin tone. It is packed with vitamin E which helps in clearing blemishes and discolouration of the skin. The fatty acids present in the oil helps in controlling excess oil production and at the same time keeps the skin elastic with its moisturizing properties. This is especially beneficial to our oily/combination skin customers.
Niacinamide, also known as vitamin B3, is a water-soluble vitamin that works with your skin to help visibly minimize enlarged pores, tighten lax pores, improve uneven skin tone, soften fine lines and wrinkles, diminish dullness, and strengthen a weakened surface. Niacinamide also reduces the impact of environmental damage because of its ability to improve skin's barrier (the outermost area which is our first line of defense.
Lastly, Panthenol is the alcohol form of Vitamin B5, a.k.a pantothenic acid. Panthenol is an excellent moisturizer as it draws moisture from the air into the deeper layers of your skin up to through the superficial layers.

Moisture is the foundation of healthy skin: it plumps up skin so that fine lines and wrinkles look smaller; it softens up your skin's texture; and it gives the complexion a dewy glow.
Size: 2 oz.
Instructions: Apply a small amount to fingers tips and tap throughout your face. Then rub into skin with your finger tips for maximum coverage. Can be re-applied if necessary.
Ingredients: Distilled water, Aloe Vera, Glycerin, Cucurbita Pepo (pumpkin) seed oil, Behentrimonium Methosulfate (and) Cetyl Alcohol (and) Butylene Glycol, Sodium Lactate, Niacinamide, Wheat Protein, Cetyl Alcohol, Panthenol, Allantoin, Lactobacillus Ferment, Fragrance and Colorant.
---
---
More from this collection