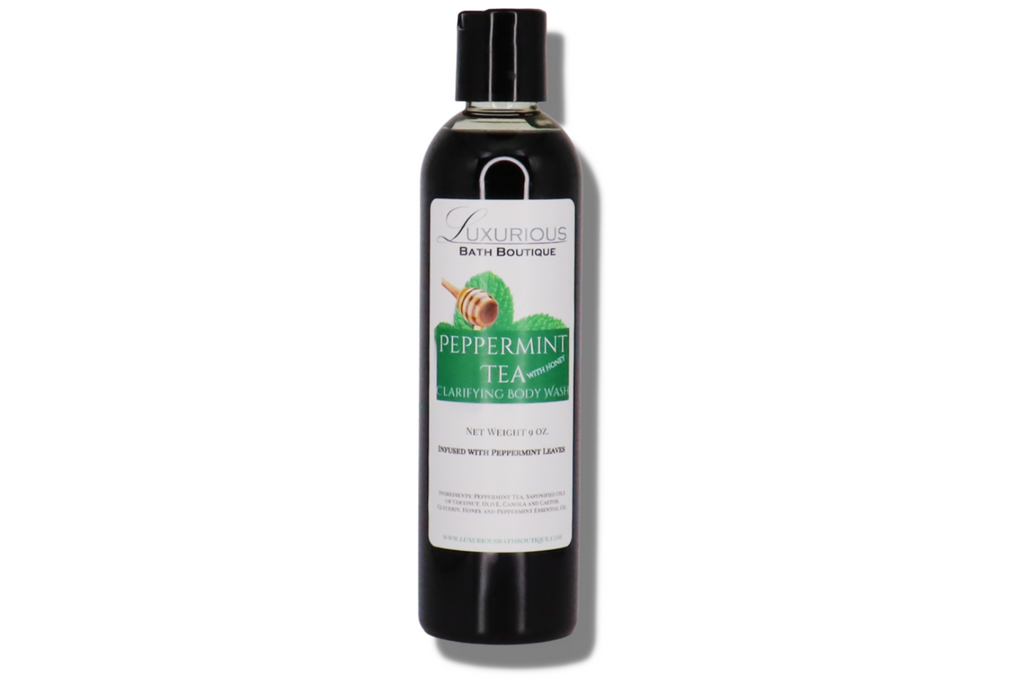 Peppermint Tea with Honey Clarifying Body Wash
Peppermint Tea with Honey Clarifying Body Wash
Sometimes we just need that deep clean feeling after bathing but unfortunately a deep clean will strip your skin. LBBs Peppermint Tea with Honey Clarifying Body Wash was created to gently strip your skin. A true herbal body wash infused with fresh peppermint leaves and peppermint essential oil to clarify your skin and honey to prevent overstripping.
This body wash is to be used in conjunction with any of LBBs aloe vera base soaps. When using these two together, once the body wash clarifies, the bar soap will infuse aloe vera juice in your skin to provide conditioning and a healthy sheen.
This body wash is great for those who are outside most of the day, play sports, after the gym shower or just want a deep clean feeling.

Peppermint
Peppermint tea is a great remedy for treating oily skin. Menthol present in the herb reduces oil secretion by the sebaceous gland and reduces skin problems such as acne gradually. It is a good skin cleansing agent. The antiseptic as well as anti-inflammatory properties of the herb cures skin infection and promote fast wound healing. Thus, it serves to be an inexpensive skin treatment.  
Peppermint has natural analgesic and anti-inflammatory properties. If you have any skin allergy or irritation, just sip a cup of peppermint tea for quick relief. It will soothe the skin and reduce discomfort. It is a better remedy for insect bites, rashes and skin inflammation.
Peppermint tea helps in balancing the pH levels, which stops excessive production of oil in the skin. This reduces acne breakouts. The antiseptic and astringent properties of the herb help in reducing the appearance of rashes, blackheads, acne and redness.
Honey
Honey is an effective moisturizer.  Honey has humectant qualities. It not only attracts water but also retains it in the skin, so the skin remains supple and elastic. It also protects against wrinkles and dryness.
Honey has antiseptic, antibacterial and antimicrobial properties which give it healing power. These properties help prevent the growth of certain bacteria by producing an enzyme -- hydrogen peroxide. Thus, honey can be utilized as a natural treatment for wounds, cuts and abrasions to promote healing.
The most important benefit of a special type of honey, called manuka honey, is that it can soothe eczema. It can treat damaged skin and regenerate new skin cells and hence it is a vital ingredient in almost all products that are manufactured and known to soothe eczema and other forms of dermatitis.
Ingredients: Peppermint Tea, Saponified oils of Europaea Fruit (Olive) Oil, Ricinus communis (Castor) Seed Oil, Canola Oil, Cocos nucifera (Coconut) Oil, Glycerin, Sodium Chloride, Honey, Peppermint Essential Oil and Cosmetic Colorants.
Prior to purchasing, please read the Product Care Instructions, Product / Information Disclaimer and Returns/Shipping Policies.
---
---
More from this collection