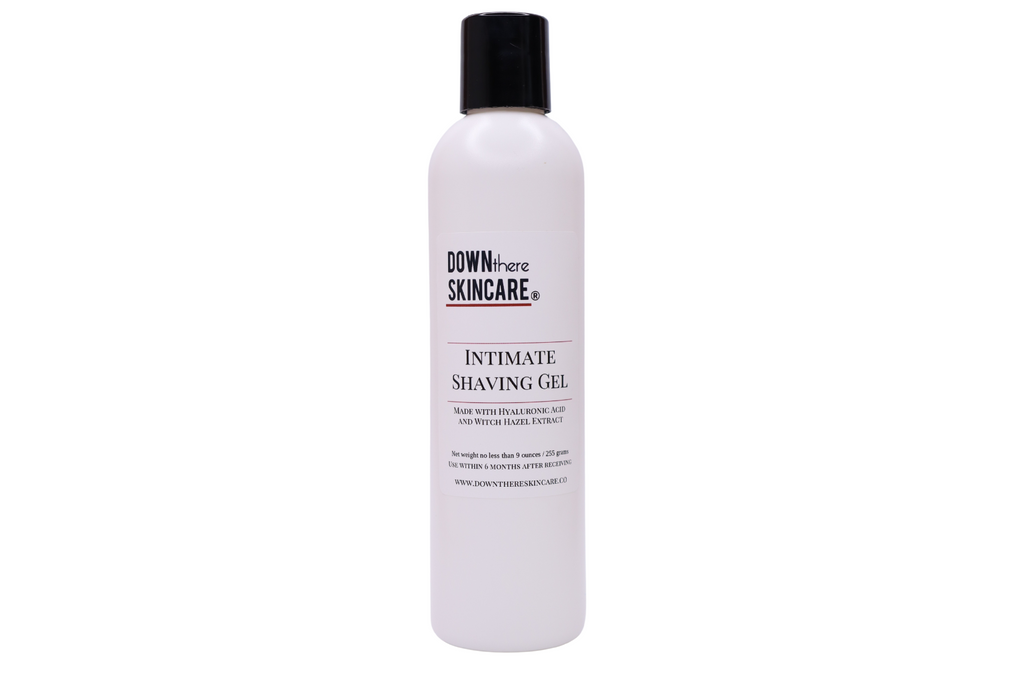 Down There Skincare®️ Intimate Shaving Gel
We understand that intimate grooming is a personal and delicate matter. That's why we've crafted a premium Down There Skincare®️Intimate Shaving Gel designed to provide a smooth and irritation-free experience for both men and women. Our expertly curated formula incorporates nature's finest ingredients. With the Intimate Shaving Gel, you can embrace a new level of comfort, confidence, and care during your intimate grooming routine.
As a plus, this shaving gel can also be used to shave your armpits!
Key Ingredients for Unrivaled Comfort:
Aloe Vera Juice: Renowned for its soothing properties, Aloe Vera has been used for centuries to calm and nourish the skin. As you shave, our Intimate Shaving Gel harnesses the power of Aloe Vera juice to help reduce irritation, redness, and discomfort, leaving your skin feeling soft, supple, and rejuvenated.

Hyaluronic Acid: Known for its exceptional hydrating abilities, Hyaluronic Acid works wonders to retain moisture and promote optimal skin hydration. During the shaving process, our Intimate Shaving Gel ensures your skin stays moisturized, preventing dryness and helping to create a seamless glide for your razor.

Witch Hazel Extract: With its astringent and anti-inflammatory properties, Witch Hazel extract helps to soothe the skin, reduce razor bumps, and minimize ingrown hairs. Our Intimate Shaving Gel ensures your grooming experience remains irritation-free and comfortable, thanks to the gentle touch of Witch Hazel.

Proprietary Blend of Essential Oils: We've expertly combined a proprietary blend of natural essential oils to enhance the overall experience. These oils provide a delightful fragrance while contributing to the calming and refreshing sensation during and after shaving.
Intimate Shaving Gel Distinctive Features:
Precision and Versatility: Our Intimate Shaving Gel is designed to cater to the specific needs of both men and women. Whether you're shaping delicate contours or maintaining a clean look, SilkGlide offers precise control, ensuring a flawless and enjoyable grooming process.

Transparent and Non-Foaming Formula: SilkGlide's transparent gel formulation allows for enhanced visibility while shaving, reducing the risk of nicks and cuts. Unlike traditional foamy products, our non-foaming gel ensures a more precise shave, letting you groom with confidence and ease.
How to use the Intimate Shaving Gel:
Begin by cleansing the area with warm water and a gently soap to soften the hair and open up the pores. Pat the skin to remove excess water.

Take a generous amount of Intimate Shaving Gel and apply it gently to the desired area, ensuring an even and smooth coverage.

Let the powerful blend of Aloe Vera juice, Hyaluronic acid, Witch Hazel extract, and essential oils work their magic as you shave with your preferred razor.

After shaving, rinse off any remaining gel with cool water and pat the area dry with a soft towel.

For enhanced results, follow up with your preferred moisturizer and deodorant to keep your skin hydrated and smooth.
Ingredients: Distilled Water, Aloe Vera Juice, Hydroxypropyl Starch Phosphate, Water & Hamamelis Virginiana (Witch Hazel) Bark/Leaf/Twig, Olive Oil PEG-7 Esters, PEG-6 Caprylic/Capric Glycerides, Lactobacillus Ferment, Hydroxyethyl Cellulose, Polysorbate 20, Proprietary Essential Oil Blend, Guar Hydroxypropyltrimonium Chloride, Apple Cider Vinegar, Glycerin & Acetic Acid, Hyaluronic Acid, and Panthenol.
Prior to purchasing, please read the Product Care Instructions, Product / Information Disclaimer and Returns/Shipping Policies.
---
---
More from this collection