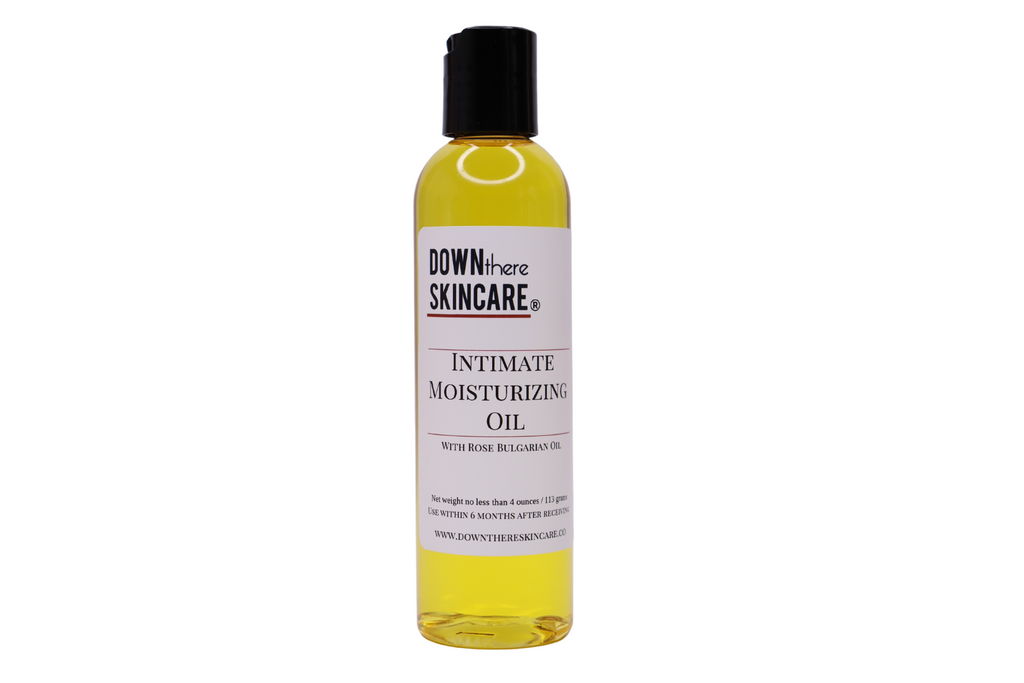 Down There Skincare®️ Intimate Moisturizing Oil
Down There Skincare®️ Intimate Moisturizing Oil is a thoughtfully crafted blend of natural and nourishing ingredients that work harmoniously to smooth, soothe, and hydrate your intimate skin. We believe that every individual deserves to feel confident, comfortable, and cared for, which is why we have combined the luxurious properties of Sunflower Oil, Almond Oil, Jojoba Oil, and Rose Bulgarian Oil, known for their remarkable benefits on the skin.
Sunflower Oil: Extracted from sunflower seeds, Sunflower Oil is a rich source of essential fatty acids, including linoleic acid and oleic acid. These nutrients provide deep nourishment, helping to replenish the skin's natural moisture barrier and maintain optimal hydration levels. The light texture of Sunflower Oil ensures quick absorption, leaving no greasy residue behind.

Almond Oil: Sweet Almond Oil has been revered for centuries for its exceptional moisturizing and emollient properties. Packed with vitamins E and A, it helps to improve skin elasticity, promoting a smoother and softer texture. The gentle nature of Sweet Almond Oil makes it suitable for even the most sensitive skin, making it an ideal ingredient for intimate care.

Jojoba Oil: Jojoba Oil is nature's gift to intimate care. Its structure closely resembles that of the skin's natural sebum, allowing it to deeply penetrate and balance the skin's oil production. As a result, it aids in reducing dryness, irritation, and chafing, providing long-lasting comfort and a soothing sensation to intimate areas.

Rose Bulgarian Oil: Known for its exquisite aroma and therapeutic benefits, Rose Bulgarian Oil not known for its delightful fragrance but also possesses powerful anti-inflammatory and antioxidant properties. It helps calm irritated skin, reduces redness, and supports overall skin health in the intimate areas.
Directions: Application is effortless. Cleanse intimate skin thoroughly then pat your skin dry. Simply apply a few drops of the Intimate Moisturizing Oil to the desired intimate area and gently massage until fully absorbed. The oil will work its magic, leaving the skin feeling velvety-smooth, supple, and rejuvenated throughout the day.
Ingredients: Olea Europaea (Olive) fruit oil, Helianthus Annuus (Sunflower) Seed Oil, Prunus Amygdalus Dulcis (Almond) Oil, Ricinus Communis (Castor) Seed Oil, Simmondsia Chinensis (Jojoba) Seed Oil and * Rosa damascena (Rose) Oil.
*Please note, this is not a rose scented oil. The scent is very light to non existent.
Prior to purchasing, please read the Product Care Instructions, Product / Information Disclaimer and Returns/Shipping Policies.
---
---
More from this collection