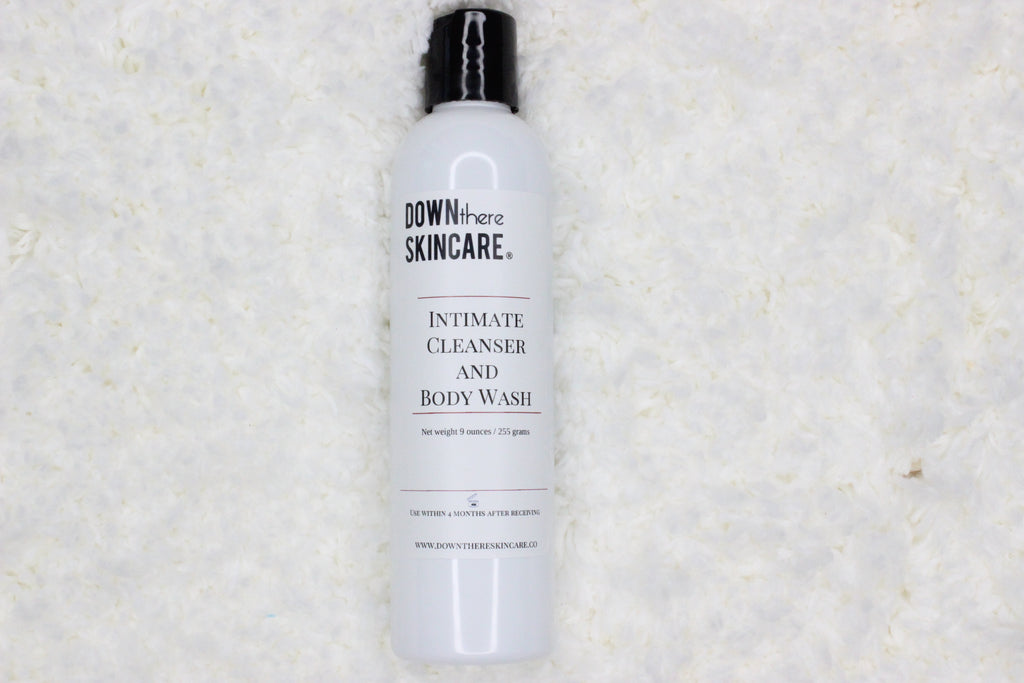 Down There Intimate Cleanser and Body Wash
Down There Skincare ® Intimate Cleanser and Body Wash - A unisex personal hygiene cleanser. Our down there wash not only gently cleanses your intimate parts, it also addresses body odor, irritation and build up. This cleanser can be used as an intimate cleanser only or as an all over body wash.

Many of the issue we experience are "common" and don't require medical attention. So why are so many still suffering?

Common Issues Down There
Body Odor
Body odor is caused by common things such as sweating, unhealthy diet or poor hygiene. When body odor occurs, it can leave you feeling self-conscious and with low self-esteem. This can stop you from attending gatherings, have a relationship, etc.

Irritation
Irritation is most commonly cause by bacteria, cleansing products and diet. When you become irritated down there, this can lead to misery. Irritation such as burning, itching and ingrown hairs makes you uncomfortable around others and in your own skin.

Build-up/dead skin
Build up can occur when a cleanser does not properly cleanse your skin down there. Many products are created to be gentle to prevent irritation but sacrifice not thoroughly cleansing your skin. Secretions, oil and product begin to build up down there which leads to odor and irritation and possibly infection.

Down There Wash is your solution!

Down There Skincare® Intimate Cleanser and Body Wash was created to address all of the above issues. Continue reading to learn how.

Our intimate cleanser and body wash is all natural. Made the "old fashion" way not with detergents that aren't beneficial to your skin. It's formulated mainly with olive and coconut oils to be gentle when applied to your skin and remove odor, urine, secretions, and dead skin. This cleanser is slow cooked to perfection before other ingredients are added.

Fresh yogurt is included to soothe your skin. This is especially helpful if you are irritated. Once applied, you will notice how the wash does not irritate your already tender spots. Yogurt is also great for balancing your pH. Many scientists may not agree but the proof is in the pudding. Also, yogurt also aids in exfoliating and smoothing the skin due to the naturally occurring lactic acid.

Apple Cider Vinegar restores the normal pH balance of the skin, it will neither get too dry or too oily.

Proprietary Essential Oil Blend created to soothe inflammation and deodorize. Our essential oil blend has antiseptic and antibacterial properties that are known to aid in preventing minor wounds or burns from becoming infected by harmful bacteria.

Instructions: For down there, on a damp washcloth apply a dime to nickel size of cleanser and rub in a circular motion until it lathers. The more the lather, the more cleansing it will be. Adjust the amount you need accordingly. For external use only.

Ingredients: Distilled Water, Glycerin, Elaeis Guineensis (Palm) Kernel oil, Olea europaea (Olive) Fruit Oil, Cocos Nucifera (Coconut) Oil, Potassium Hydroxide, Yogurt, Essential Oil Blend, Apple Cider Vinegar and Sodium Chloride.
Down There Skincare® Body Wash is detergent free, paraben free, phthalates free and preservative free.
Down There Skincare® Body Wash must be used within 3 months after receiving and kept in a cool/shaded area.
Net Weight: Approximately 9 oz.
Prior to purchasing, please read the Product Care Instructions, Product / Information Disclaimer and Returns/Shipping Policies.
---
---
More from this collection