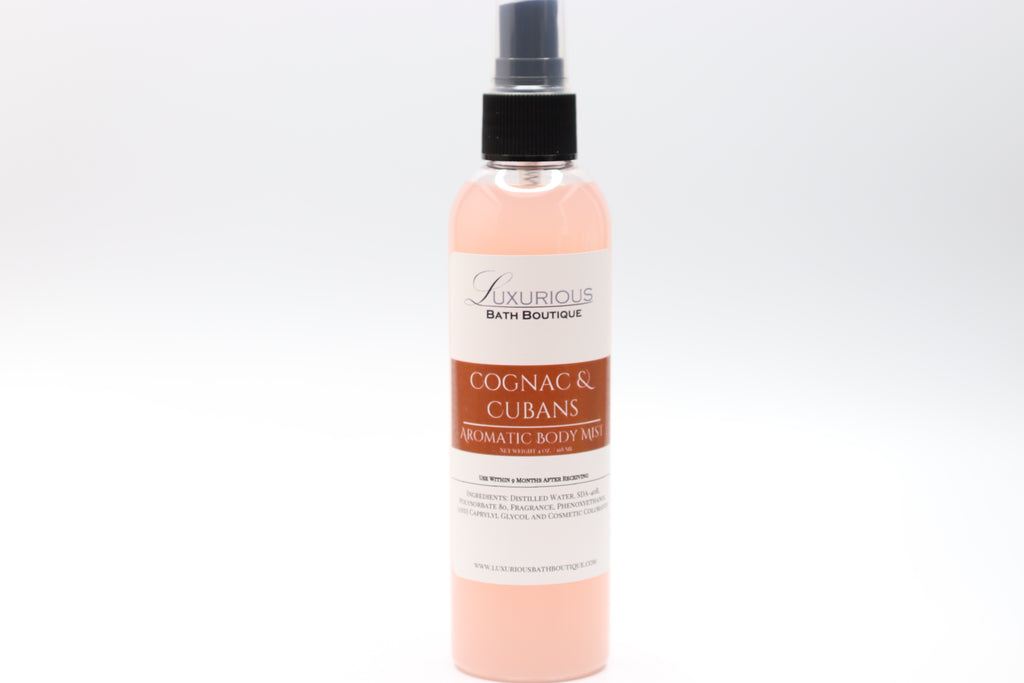 Cognac & Cubans Aromatic Body Mist
Compliment your favorite Luxurious Bath Boutique™ skincare products with a matching Barely There Aromatic Body Mist. Our customers are sure to share with us that they just love how these scents keep them smelling good throughout the day. They receive many compliments and questions on what they are wearing.
Cognac & Cubans
Cognac and Cubans is a masculine scent that encompasses the scent of money, status and masculinity all wrapped into this blend. With top notes of aromatic bergamot with fresh lemon zest spritzing a heart of velvety cognac essences and rich, spiced tobacco leaves.

Directions:
Hold bottle 8 to 12 inches from skin and/or clothing before applying. Please note staining may occur if you hold the bottle too close to clothing or over saturate.
Size: 4 oz.
You can purchase other Cognac & Cubans scented products HERE.
Ingredients:
 Distilled Water, Alcohol, Polysorbate 80, Fragrance and 
Phenoxyethanol and Caprylyl Glycol.
---
---
More from this collection