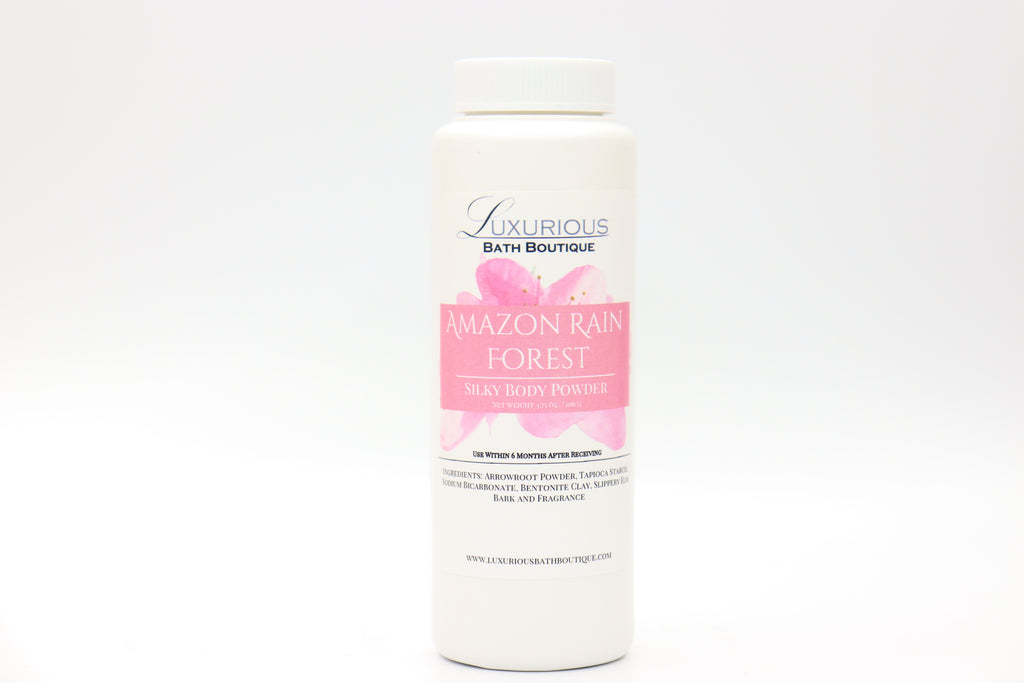 Amazon Rain Forest Silky Body Powder
Luxurious Bath Boutique's Silky Body Powder was designed to keep you fresh and dry throughout the day. Arrowroot powder, clay and sodium bicarbonate absorbs moisture while our lovely fragrances keeps you smelling oh so good all day long! LBBs Silky Body Powder is talc and aluminum free.
Amazon Rain Forest
Your trip begins when you step into the shower. As the water begins to fall, imagine yourself standing in the middle of the beautiful Amazon Rain Forest, right after it rains. But it doesn't feel like the rain has stopped as the trees continue to drip large drops of rain on you. As you embrace the almost sauna like atmosphere, a warm feeling begins to come over you. You may wonder what this beautiful feeling is and to your amazement, its the sun peaking between the trees onto your skin. You then smile......lift your hand to inhale the this scent of your getaway bar to be whisked even deeper into the forest with a beautiful aromatic blend of bergamot (with a splash of spiciness), sultry sandalwood balanced with a soft breeze of orchid and amber. You won't want to leave.😉
Directions: Sprinkle lightly on skin then rub gently. Avoid overuse, sprinkle a little at a time. You may lightly sprinkle onto clothing.
Net Weight: Approximately 4 oz.
To purchase other

Amazon Rain Forest

 scented products, click here
.
---
---
More from this collection