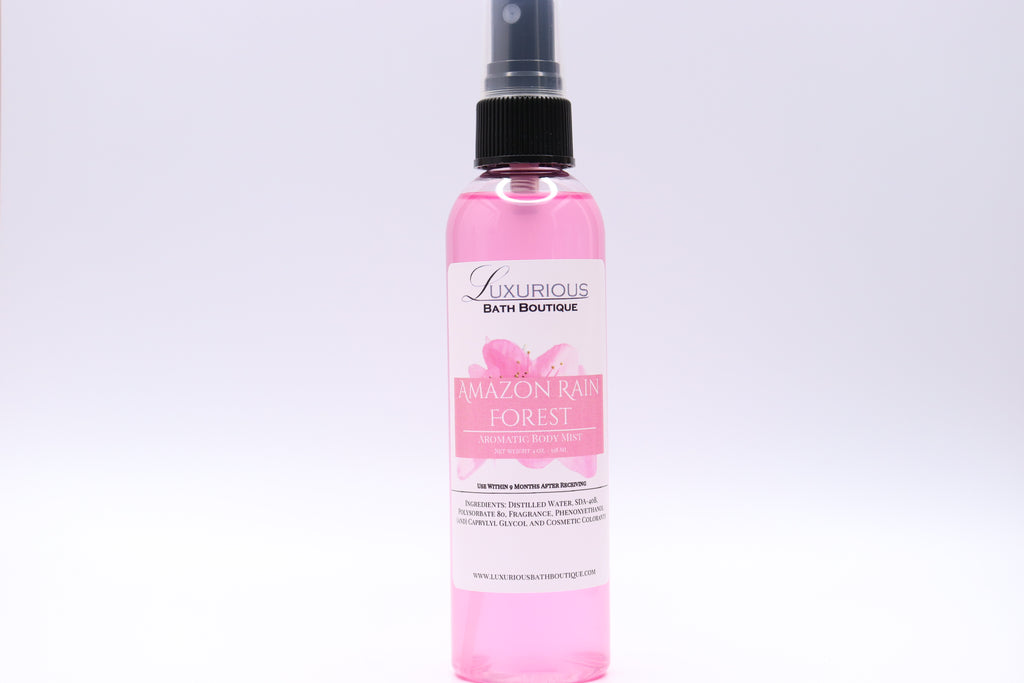 Amazon Rain Forest Aromatic Body Mist
Compliment your favorite Luxurious Bath Boutique™ skincare products with our Aromatic Body Mist. Our customers have shared how they just love how these scents keep them smelling good throughout the day. You'll receive many compliments and questions on what they are wearing. Our mists are not over powering but have the right linger that is sure to turn heads. 

Amazon Rain Forest
Your trip begins when you step into the shower. As the water begins to fall, imagine yourself standing in the middle of the beautiful Amazon Rain Forest, right after it rains. But it doesn't feel like the rain has stopped as the trees continue to drip large drops of rain on you. As you embrace the almost sauna like atmosphere, a warm feeling begins to come over you. You may wonder what this beautiful feeling is and to your amazement, its the sun peaking between the trees onto your skin. You then smile......lift your hand to inhale the this scent of your getaway bar to be whisked even deeper into the forest with a beautiful aromatic blend of bergamot (with a splash of spiciness), sultry sandalwood balanced with a soft breeze of orchid and amber. You won't want to leave.😉
To purchase other
Amazon Rain Forest
 scented products, click
here
.
Directions:
Hold bottle 8 to 12 inches from skin and/or clothing before applying. Please note staining may occur if you hold the bottle too close to clothing or over saturate.
Ingredients: Distilled Water, Polysorbate 80, SB-40D alcohol, Fragrance, Phenoxyethanol and Caprylyl Glycol and Cosmetic Colorants.
Prior to purchasing, please read the Product Care Instructions, Product / Information Disclaimer, Returns/Shipping Policies.
---
---
More from this collection