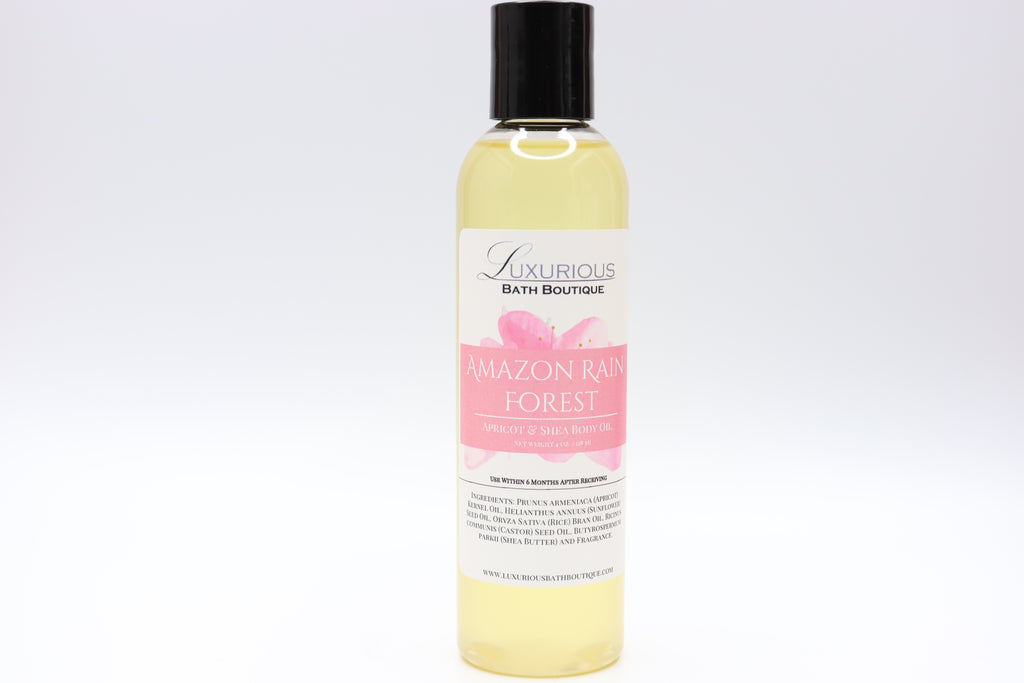 Amazon Rain Forest Apricot & Shea Body Oil
Luxurious Bath Boutique's Apricot & Shea Body oil is a great addition to your skin care routine. This body oil was created to not only moisturize your skin, but it can also help seal in moisture. Light and easily absorbed this luxurious body oil uses a unique blend of ingredients to moisturize, firm, and soothe the skin. Once applied skin is hydrated, soft and supple whilst the soothing aroma chosen transports you to a serene place. A well-deserved after shower indulgence to leave your delicate skin with a smooth finish.

Amazon Rain Forest
Your trip begins when you step into the shower. As the water begins to fall, imagine yourself standing in the middle of the beautiful Amazon Rain Forest, right after it rains. But it doesn't feel like the rain has stopped as the trees continue to drip large drops of rain on you. As you embrace the almost sauna like atmosphere, a warm feeling begins to come over you. You may wonder what this beautiful feeling is and to your amazement, its the sun peaking between the trees onto your skin. You then smile......lift your hand to inhale the this scent of your getaway bar to be whisked even deeper into the forest with a beautiful aromatic blend of bergamot (with a splash of spiciness), sultry sandalwood balanced with a soft breeze of orchid and amber. You won't want to leave.😉
Skin Benefits:
Lightweight
Rich in Essential Fatty Acids and Antioxidants
Soothes Irritate Skin
Hydrates
Great for Sensitive and Mature skin types
Gentle enough to use on baby skin (fragrance free)
Our organic Shea Butter is known as a superb moisturizer, with exceptional healing properties for the skin. Shea Butter is very high in Vitamin A which is important for improving a number of skin conditions such as skin blemishes, wrinkles, eczema and dermatitis.
Size: 4 oz.
To purchase other Amazon Rain Forest scented products, click here.

Ingredients: Prunus armeniaca (Apricot) Kernel Oil, Helianthus annuus (Sunflower) Seed Oil, Oryza Sativa (Rice) Bran Oil, Ricinus communis (Castor) Seed Oil, Butyrospermum parkii (Shea Butter) and Fragrance.

Prior to purchasing, please read the Product Care Instructions, Product / Information Disclaimer and Returns/Shipping Policies.

---
---
More from this collection